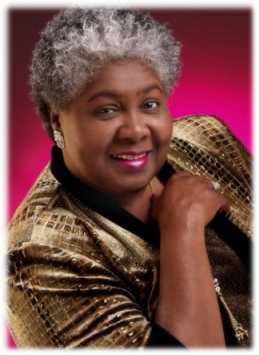 Multi-Grammy award nominee, Dorothy Moore played New York's Madison Square Garden and London's Palladium when she burst on the scene with the classic Misty Blue in 1976.
Recent recognitions for Dorothy Moore were a Blues Trail Marker placed at the Alamo Theater in Jackson MS, 2008, and the onterey Lifetime Achievement award given for the first ever from the Monterey Bay Blues Festival, 2006. Another first for Moore was the
release of her children's book "Little Dorothy" October, 2006.
Moore's professional career started in the 1960s as the lead singer of a trio called the Poppies. After one Poppies album with Epic label, she went solo. Moore has over thirty years of professional work in the music and entertainment industry and eighteen albums to her credit.
Moore's early ballads topping the charts were Misty Blue, Funny How Time Slips Away, I Believe You, For Old Time Sake and With Pen In Hand. Misty Blue climbed the US charts to number one for R&B and to number one single in the UK. It went gold in Canada and has sold millions worldwide. Misty Blue went platinum for the Phenomenon soundtrack and it was in the John Travalota movie. Her song was in the 2008 film Made of Honor, on the 2000 film Jesus' Son and played on the small screen in a Sopranos episode, 2004.
I Believe You, released in 1977, earned Dorothy Moore one of Record World's Top Female Vocalists of the year. I Believe You made the number one single R&B and the top ten single in the US, and went to number one single in the UK.
Dorothy Moore debuted her first produced work in September 2002, Please Come Home for Christmas on her own label, Farish Street Records of Mississippi. She also released a single, Dorothy Moore Sings the National Anthem. Moore has used Jim Hill High School choir and Voice of Calvary Children in her holiday work. In 2005, she released I'm Doing Alright and with Gittin' Down Live! in 2003 on her label, Farish Street Records of Mississippi.
Moore was featured in print In The Basement and Juke Blues. Other reviews and features are in Living Blues, Blues Review and on internet La Hara Del Blues and other sites.
Legend singer Dorothy Moore was honored with a sidewalk marker of her likeness in 2001 at the Alamo Theater on Farish Street, Jackson, where she started her professional career. Local honors have included the Governor's Award for Excellence in the Arts in 1996, Mississippi Musicians Hall of Fame in 2001 and numerous Jackson Music Awards. Moore serves on the board of the Blues Foundation and BB King Museum Advisory Board. She
tours, produces and records from Jackson, MS. Updated Jun 2008