Dorothy's Travels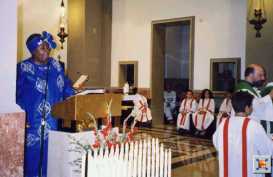 Dorothy sings gospel in Porretta Italy at Sunday mass.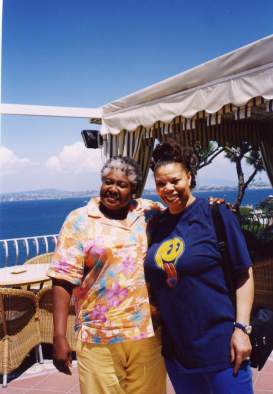 Dorothy & Millie Jackson tour Italy July 2004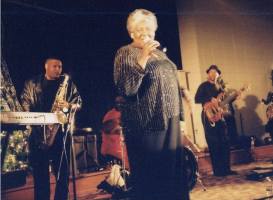 Dorothy performs at JSU Dec 03.
Dorothy takes travel break.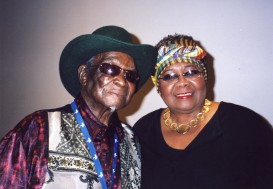 Dorothy and Honeyboy Edwards talk blues at the Blues Music Awards, Memphis, May 2007. Honeyboy played with bluesman Robert Johnson.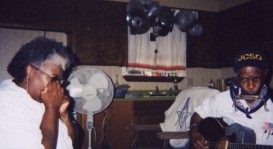 LC Ulmer gives impromptu harp lessons to Dorothy when she helps to get his passport June 2007. Others assisted to get needed info but Dorothy walked him through. He got on the plane five days later and toured in Italy and Switzerland. Well, yes 78 year-old Ulmer had been abroad before - on the vessel the Queen Mary.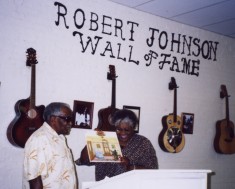 With Claud Johnson: Claud Johnson, son of famed Mississippi blues-man Robert Johnson, accepts artifacts from Dorothy for the R Johnson Museum in Crystal Springs MS. After court action, Mr. Claud is the heir to his royalties. He is no longer a gravel truck driver.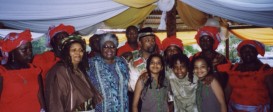 With Wedding Party: An off day in Paramaribo Suriname, Dorothy hires tour guide, S. Rozenblad, "Cowboy," to find music. After 40 minutes from town, a van of dressed singers pass us on the highway. Cowboy says "we'll find some music now." Gospel singers lead us to a surprise wedding party on the plantation of Norico where we find a great mix of Dorothy's love songs playing, and she joins the celebration. The wedding was on 7/7/07 and the party the day after. The bride and groom are standing on each side of Dorothy with the singers around her.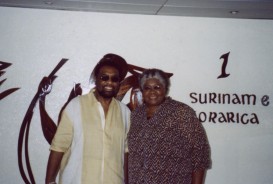 With William Bell: William Bell and Dorothy visit at the hotel in Suriname South America after rehearsal. Birds and flowers were abundant in this Caribbean/Amazon basin multi-cultural community.
Previous Page - click here !